| | |
| --- | --- |
| Posted by The Bead Place on January 31, 2013 at 7:20 PM | comments (1) |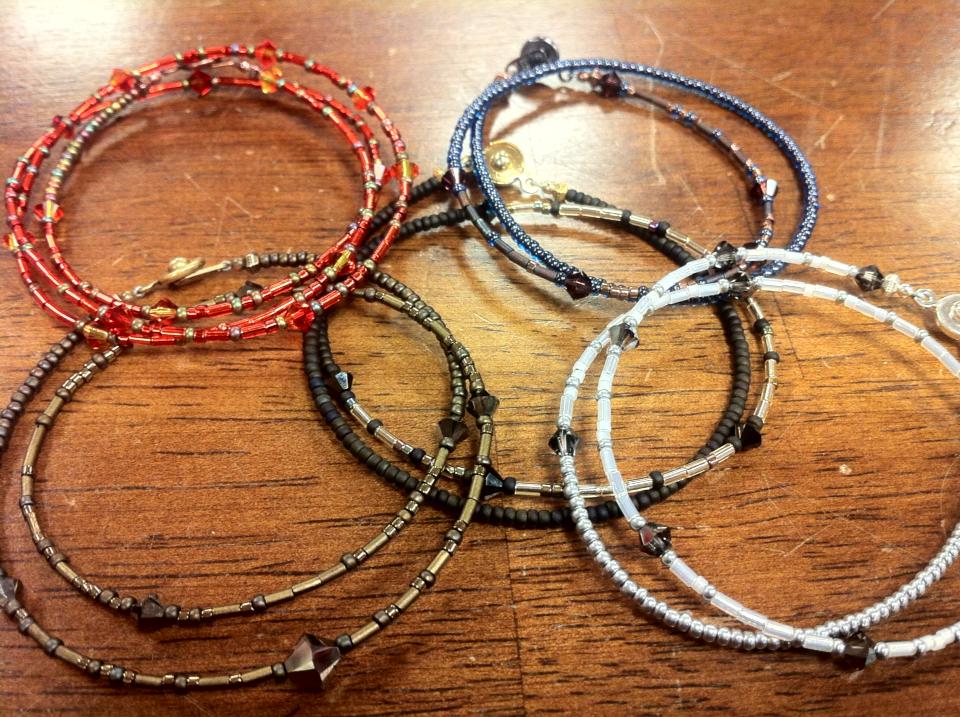 Morse Code Bracelet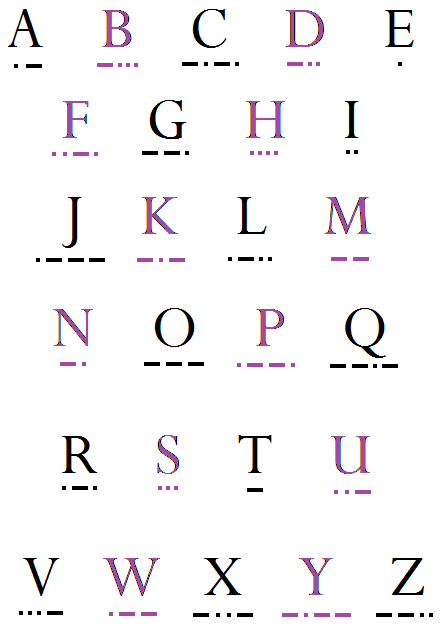 Materials List:
Delica 11's
Size 3 Bugle Beads
Size 11 seed beads (rocailles)
4mm bicone crystals

20-30" Md. Soft Flex
2 3mm faceted hex beads
2 crimp beads
1 snap clasp
Bead Stopper

Legend:
Dots: Delica 11's
Dashes: Size 3 Bugles
Spaces between letters: Size 11 seed beads (rocailles)
Spaces between words: 4mm bicones
Directions
Figure out a message that you'd like to write in Morse Code!

Decide whether you'd like a double wrap or a triple wrap bracelet.  Use 20" of Soft Flex for a double and 30" for a triple.  Clamp a bead stopper on one end.
String one 11 seed bead, one 4mm bicone, then one 11 seed bead.
Begin your message referring to the legend and code above.  Example: The word "the" should be spelled like this: bugle bead, size 11 seed bead, delica, delica, delica, delica, size 11 seed bead, delica.  
After each letter, make sure to place one size 11 seed bead to separate each character.
When finished with a word, separate the word with a 4mm bicone.  (Personally, I like to surround each bicone with an 11 seed bead.)
When your message is complete, fill each side with size 11 seed beads until your message lays around your wrist the way you'd like.
To one side, string a hex bead (which will act as our large hole bead for tucking wire), a crimp bead, and one side of your snap clasp.  Take the wire back through the crimp bead and crimp.  Trim the tail end so that it just barely tucks down inside of the hex bead. 

Tighten and remove any slack from the bracelet.  Make sure you don't make the bracelet so tight that it doesn't bend around your wrist.  Make sure the bracelet fits appropriately one last time, then repeat step 8 on the unfinished side.
Wear proudly and make more!
Project, instructions, and images are by Abbi Berta and are property of The Bead Place, www.beadplace.net.  They are for personal use only.  Please do not copy, re-use, or teach without written permission of the author.